This is a sponsored post. Many thanks to USFG and Package from Santa
It's that time of year again, time when kids who believe in Santa Claus are on their best behavior and parents try to hold onto that last little bit of the magic of Santa Claus.
I remember when I had the talk with out kids. One of their friends was a naysayer and my middle kid came home and asked the question. You know the question...
Mommy, is Santa Claus real?
I was ready for it. I had been rehearsing what I was going to say since last Christmas and without hesitation I blurted out "Yes!"
That was the end of that.
The elves must have been on my side because the following week on Christmas Eve we had the worst winter windstorm ever.
The kids had gone to bed
early as they typically did on Christmas Eve and Hubby, myself and a few of Santa's helpers worked a little Christmas magic and off to sleep we went.
In the middle of the night, lightning flashed and winds whipped against our house. You could hear leaves rustling outside, branches breaking as the winds thrashed again our rooftop. Then all of a sudden a large pop and a flash of light outside our bedroom window.
The noise was so loud it woke the kids up and they ran to our bedroom saying "Mommy, I hear him. He's here. He's here. His sleigh must've landed on our house because I can hear the reindeer."
Hubby rustled out of bed, peeked outside our bedroom window and it was as bright as day. The flash of light was caused by tree limbs falling onto the power source to our shed but that's not the story we told the kids...
Hey, I chose to seize the opportunity to blame it all on Santa and it worked.
When the kids returned to school after Winter break they told all their friends about the damage done to our house by Santa's sleigh and when their friends would visit they were in awe of the broken limbs.
Package from Santa from the folks who brought you Santa PNP is a great way to share the magic of Santa with your kids. You receive a personalized letter and package full of North Pole goodies plus order now and get 3 free bonuses: personalized video, phone call and a printable Nice List guide.
Use Promo Code

FAM2060

at www.packagefromsanta.com
save 25% Off any PackageFromSanta.com Program.

We ordered the Silver Package which includes:
Personalized Letter from Santa Claus

Personalized Nice List Certificate - 8 1/2 X 11 Photo of Santa Claus

Personalized Santa Flight Plan

Special Shipping Label Addressed To Your Child

Genuine North Pole Stamp

BONUS! Personalized Video Greeting from Santa!

BONUS! Personalized Call from Santa

BONUS! Personalized Printable Nice List Guide
Check out this video detailing more about this awesome gift idea.
My daughter loved her package from Santa! She couldn't believe her picture was featured and that Santa seemed to know so much about her.
Be sure to check out Package from Santa and place your order today for your kids, grandkids, nieces, nephews and don't forget to use the Coupon Code: FAM2060 and save 25%.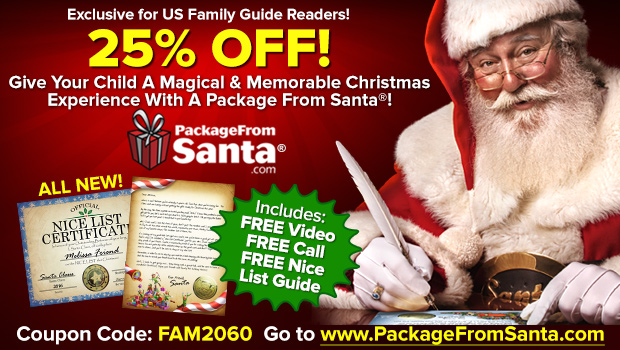 Has you kid ever written a letter to Santa Claus?